About Us
Our Leadership Team
At Virtu, our leadership team is a reflection of our ongoing commitment to embracing inclusivity and equal opportunity. We believe that diversity not only enriches our workforce but also fuels creativity, fosters innovation, and enables us to better understand and meet the needs of our diverse customer base. With their unique skill sets and a shared dedication to excellence, our leaders work collaboratively to create an environment where every individual can thrive and contribute their best each and every day.
Virtu's remarkable success can be attributed to the exceptional guidance and vision of our inspiring leaders.
These visionary individuals have set a clear direction for the company, motivating and empowering every member of the organisation to strive for excellence.
Meet Martin Johanes Kosasih, a trailblazer in the tech industry with a passion for making IT awesome. As an undergraduate at the University of Technology Sydney, Martin didn't wait to make his mark, starting his first business and setting the foundation for a successful entrepreneurial journey.

Born in Indonesia, raised in Singapore, and arriving in Sydney in 1998, Martin's global perspective and technical expertise have been invaluable assets in his career. After graduation, Martin honed his skills at an IT consultancy before launching Virtunet in 2008, capitalizing on the growing demand for server virtualization.

As the industry shifted towards cloud computing, Martin and the Virtunet team were ready, helping medium to large organizations make the transition with ease. 

With a focus on people, service excellence, and innovation, Virtunet has seen tremendous growth and rebranded as Virtu in 2022 with the vision of Empowering People through Awesome Experiences and Sustainable Partnerships.

Virtu's commitment to excellence has not gone unnoticed, earning numerous awards including Great Place to Work, Australian Employer of Choice, Deloitte's Technology Fast 50, BRW Fast Starters, and CRN Fast 50 All Star.
Head of Sales & Marketing
Jade Kaaber is a highly accomplished Head of Sales & Marketing known for his exceptional results-driven approach. Throughout his career, Jade has consistently surpassed sales quotas and achieved remarkable revenue growth, providing valuable market insights. He possesses a deep understanding of market dynamics and has successfully formulated and executed go-to-market strategies, resulting in substantial business expansion. Jade's ability to build and nurture strong partnerships has been instrumental in his success, enabling him to establish synergies and collaborations that have further propelled revenue generation and strengthened market positioning.
Jade's expertise extends beyond sales management to encompass strategic leadership and team development. He has a proven track record of expanding sales functions and implementing effective partner programs, driving significant business growth. Furthermore, Jade's astute market insights and innovative thinking approach have allowed him to identify and capitalise on opportunities which introduce new product lines and future demand structures, contributing to the overall success of his organisations.
A meticulous planner, Jade excels in creating and implementing territory and business plans that maximise sales opportunities. He possesses a natural talent for understanding customer needs and aligning them with the organisation's key value offerings. This customer-centric approach, coupled with his passion for sales, has enabled Jade to consistently achieve exceptional results throughout his career. As a strategic leader, he motivates and inspires his teams to perform at their best, fostering a collaborative and high-performing work environment.
Head of Operations & Customer Experience
Nate Goyer leads Virtu's Operations and Customer Experience teams with strong focus on data-driven decision-making and action-oriented approaches. With extensive experience in innovation, technology, and communication, Nate has a proven track record of holding pivotal leadership roles in Professional Services, Customer Success, and Operational teams at renowned companies such as Amazon, VMware, and Cisco. With an extensive engineering background, an MBA qualification, and extensive global change management experience, Nate regularly spearheads the delivery of complex initiatives, including product launches, service offerings, secure SaaS platforms, and the establishment of mixed on- and off-shore models.
Nate's strengths include scaling businesses and creating frameworks for strategic initiatives that deliver long-term value and customer delight. His expertise extends beyond leadership roles at Apple, Adobe, and Nortel, as he has also supported pioneering online start-ups such as Kazaa.
Nate's dynamic leadership, effective communication with engineering and technologist teams, and engagement with CXOs make him a valuable asset within the industry, driving operational excellence, fostering innovation, and delivering exceptional results in the ever-evolving landscape of IT.
Raised in California & based in Sydney, married with two kids and about 5,000 vinyl records, Nate is a music fan who occasionally surfs badly but has a great time trying.
At Virtu, we pride ourselves on our diverse team of highly skilled individuals who collaborate to propel our company to success. With each team member bringing unique skills and experiences to the table, our work environment thrives on collaboration and innovation as we continue to grow and Make IT Awesome.
Tony Sielliaga
Account director
Tony is Virtu's Account Director with over 11 years of experience with the company. A career in IT sales since 2005, Tony brings a wealth of knowledge and expertise to his role and colleagues as a senior member of the team. He began his journey at Virtu as a Technical Business Development Manager and subsequently advanced to positions such as Solutions Architect and Senior Account Manager. Tony has consistently proven his ability to drive sustainable sales growth, seize new business opportunities, create customised IT solutions, and foster strong client relationships with leading organisations across sectors including Finance, Healthcare, Retail, Real Estate and Education. He skillfully manages national sales operations whilst successfully delivering large business projects with C-Level Executives through excellent customer relationship management and synergising vendor partnerships.
Tish Sharma
Senior ACCOUNT MANAGER - Client Growth
Tish is a highly experienced Senior Account Manager with over 10 years of experience at Virtu and a strong background in the IT industry since 2006. Throughout his career, Tish has consistently demonstrated exceptional creativity, innovation and market knowledge helping to generate sales growth across various sectors such as Construction, Mining, Manufacturing, Hospitality and more. Tish has successfully led Sales and Specialist teams, consistently uncovering new ideas and insights to deliver outstanding results in new business acquisition and client growth. Tish has helped manage collaboration with cross-functional teams to secure larger tenders and improve customer experience. Additionally, Virtu's mission "Making IT Awesome" comes alive with Tish helping to facilitate many of Virtu's events and client engagement activities, creating memorable, valued experiences.
Carolina Latumaliemna
Legal & SUPPORT Manager
Carolina is Virtu's go-to person for all matters requiring legal advice, contracts or client services. As the Legal & Support Manager, she plays a crucial role in overseeing tenders and contracts to ensure compliance and safeguard the company's operations. With her background as a lawyer and Government Officer, Carolina brings diverse expertise and insights to her role that helps Virtu identify secure business opportunities. She brings a discerning eye to contract reviews and tenders, meticulously assessing terms and conditions to identify potential risks and secure the best outcomes for the business and our diverse clients. Carolina's ability to navigate complex legal landscapes and propose effective solutions greatly contributes to the company's success in contractual matters, ensuring well informed decision making as a company that secures stable long term growth for Virtu and all employees.
Jen is a HR Generalist at Virtu with a wealth of experience supporting client experience and employee management. As one of our valued remote employees, she plays a crucial role in managing various HR functions to maintain a smooth and efficient operation across all departments within the organisation. Jen ensures employees are inspired and motivated by Virtu's unique culture and values which embrace diversity, collaboration and growth. Her responsibilities encompass the full hiring process, from finding new talent, screening candidates to negotiating contracts. She designs and implements training programs, manages employee benefits, establishes performance tracking systems, and maintains accurate HR records for the business. Her expertise and commitment to Virtu's employees known as "Victors" enable Virtu to consistently maintain a positive work environment for all.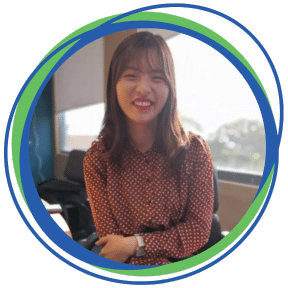 Grace is the Marketing Lead at Virtu with diverse experience and expertise in Marketing, Sales and Client Experience. Through her creative thinking, strategic mindset, and excellent event management skills, Grace has orchestrated numerous digital marketing campaigns and successful events which have generated positive results for the company. Grace leads and encourages her team to embrace creativity, innovation and inspiration with a multi-faceted approach to all areas of Marketing. Furthermore, her ability to build and maintain sustainable partnerships with vendors has been paramount in uncovering market insights for clients and prospects, maximising the impact of Virtu's marketing efforts. Grace's passion for Environmental Humanities contributes to her commitment in elevating Virtu's capability, brand visibility and positioning as Australia's No.1 Sustainable ICT Solutions Provider.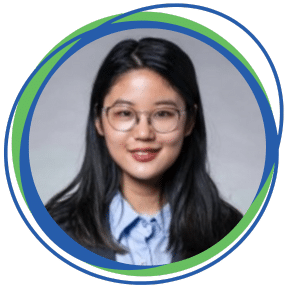 Connie Zhang
Operations Lead
As an agile Operations & Fulfillment Lead, Connie specialises in driving efficiency and optimising processes to achieve exceptional results and Awesome Client Experience. With a strong focus on streamlining effective operations and a background in Finance too, she has successfully enhanced productivity, reduced costs, and improved customer satisfaction by effectively leading her team and embracing cross-departmental collaboration. Connie has helped ensure timely fulfilment of orders whilst also assisting with project management and delivery for schools and dioceses to deliver outstanding outcomes for Virtu and clients. Connie's ability to build strong relationships with stakeholder, and problem solve and innovate with new ideas whilst practising effective time management by handling multiple priorities became key strengths that drive business growth and define her role at Virtu.