Information technology is crucial to the core business operation of almost every organisation in every industry today. We rely on IT for critical business processes, supply chain and distribution, and customer service.
While IT is vital, procuring the necessary hardware, software, and infrastructure can be a challenging and even difficult undertaking for many companies, trying to wade through the pros and cons of different vendors and products.
Many business owners choose to outsource the procurement of their IT infrastructure to IT service companies. Outsourcing connects you with knowledgeable IT professionals and suppliers and saves you time and money in the long term while streamlining the process of acquiring the equipment you need to maintain your business.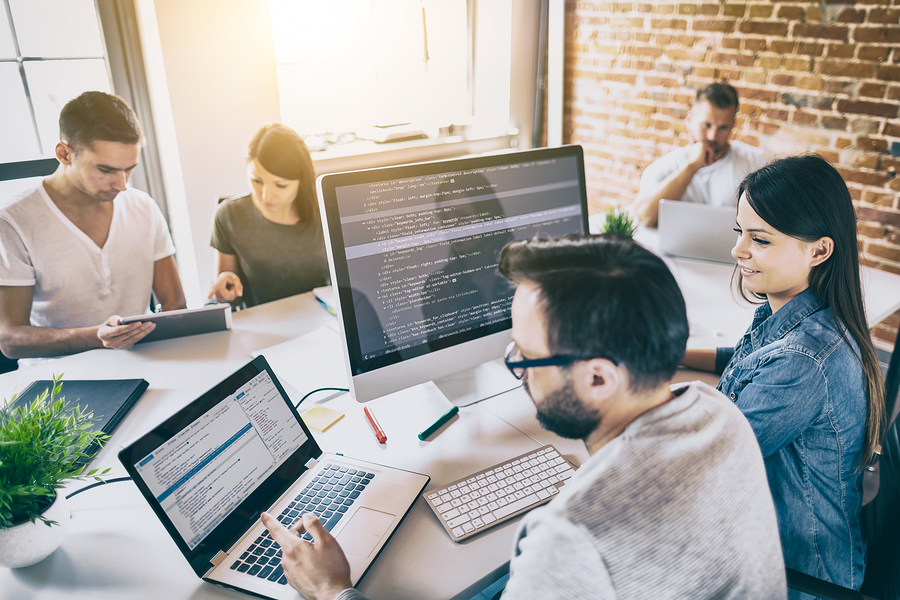 What does outsourcing IT procurement mean?
The process of IT outsourcing procurement is to hand over the acquisition of hardware and software to a managed service provider. Depending on the type of procurement outsourcing services you need, the MSP takes on the responsibility for implementing and managing technology in your business. For example, some MSPs offer cybersecurity solutions and monitoring, or IT support in general.
This is done to enable organisations to concentrate on their core business activities without having to worry about the procurement of IT assets like computers, servers, data centres, and so on.
The primary reason for outsourcing your IT hardware procurement is to reduce cost and help your company to become more cost-efficient. This can be accomplished by lowering the costs connected with digital technology in terms of hardware, servers, storage, support for break/fix issues, and so on.
Your MSP can help you determine how to optimise your technology investments for the best return. An MSP can perform a technology assessment to determine which technologies will deliver the most value to your business. This can include software, hardware, communications equipment, or other technology assets. An assessment will usually include an audit of the current state of the technology, a review of the business goals and objectives, a review of how the technology assets support those goals and a review of the vendor landscape. Strategic sourcing of IT will also allow you to determine your monthly costs based on your needs.
It can be quite an ask of a single individual to grasp technology's wide range and complex nature. Even if you've got a small in-house team of IT personnel, and your business decides to adopt new technology, they may not have adequate expertise to implement it without disrupting operations or security.
Having access to a larger, more experienced pool of technical knowledge is one of the major advantages of outsourcing to an MSP. You don't have to employ in-house IT professionals to manage all the aspects of technology. MSPs have many years of expertise, knowledge, and skilled teams to source and deploy the right technologies and manage your IT infrastructure. This will enable your company to stay competitive and have access to emerging technology that may boost your organisation's success.
When it comes to technology, things often go wrong at the worst possible moment. Your business may not be in the position to employ an onsite IT department, but you may want to have an IT professional on call as required.
Outsourcing IT procurement to an MSP brings with it the best level of support for the technology you acquire. MSPs offer a range of options for accessing IT support, which might include remote IT support or onsite support. You can even opt to combine remote IT support with your internal IT staff to create an efficient and economical solution for keeping your company's newly acquired technology up and running.
As your business grows, so do the demands on your IT infrastructure. What was suitable for your needs a year ago might not be appropriate in the future. When you outsource IT procurement to an MSP, they can provide a variety of options and solutions that are flexible to scale with your company as it grows. This means reducing costs long-term and can be implemented quickly and more efficiently.
Sustainable IT has become one of the most important aspects of business today and is a term used to describe the manufacture, management, use and disposal of technology in business. This covers everything from office printers to servers. Companies outsource their IT procurement to MSPs who have specialist expertise in corporate sustainability initiatives. This means helping businesses to identify ways to reduce the environmental impacts of their digital technology now and in the future.
Outsource your IT procurement to the experts
The pace at which technology is developing can make it hard for organisations to stay ahead, but with Virtu IT procurement consulting services, you can obtain the latest technology you need to keep your company competitive and meet your sustainability goals. Our team of experts can help you determine whether your current IT systems are compatible with new items, and they can also assist you in making intelligent purchasing decisions. Contact the IT procurement specialists at Virtu today.